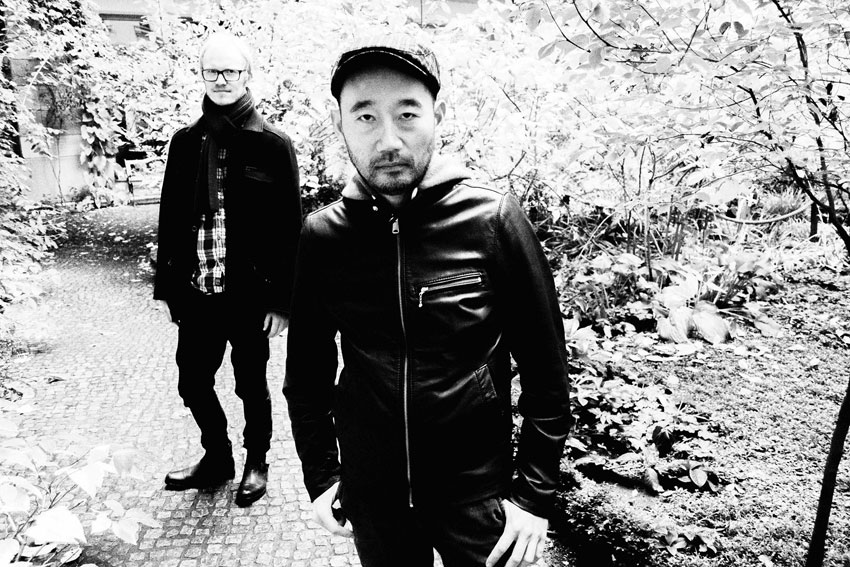 PAN ON FIRE + EIRIK BLEKESAUNE - JAPAN TOUR 2016
2016年4月9日(土)
Art Space Tetra http://www.as-tetra.info/
福岡市博多区須崎町 2-15
tel/fax 092-262-6560
Open 19:00 / Start 19:30
チケット: 2,000円 +1ドリンクオーダー(500円)
ゲスト:蟬 / jyurin / DJ Speedfarmer
Links:
http://www.toshimarunakamura.com
http://www.taxt.no
https://soundcloud.com/monotyperec/toshimaru-nakamura-martin-taxt-film-clung
https://soundcloud.com/eirik-arthur-blekesaune
PAN ON FIRE + EIRIK BLEKESAUNE - JAPAN TOUR 2016
PAN ON FIRE
Toshimaru Nakamura - mixer
Martin Taxt - microtonal tuba

EIRIK BLEKSAUNE - エリック・ブレケサウネ - laptop
---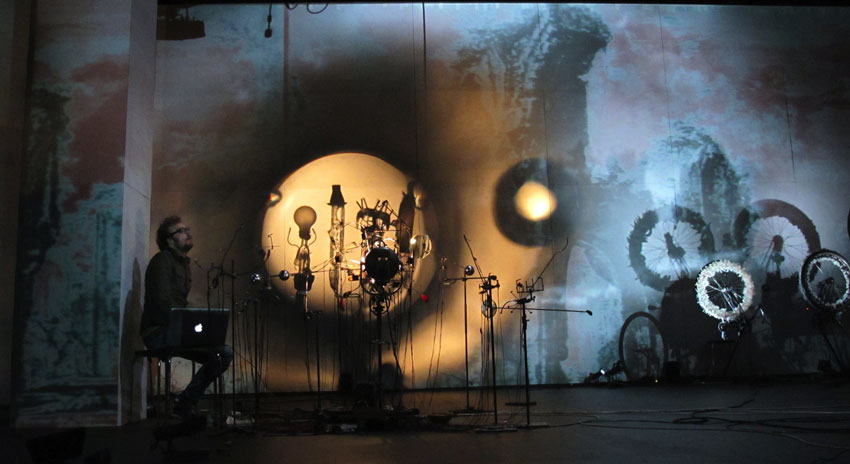 Eirik Blekesaune has been a part of the Norwegian art collective Verdensteatret since 2010. He works with sound, robotics, electronics, and software development.
As a musician he uses laptop where the music software is constructed during the performance, also known as live coding. The performance is based on creating digital musical instruments in real-time that can only be partially controlled. The laptop becomes a musical instrument that balances between taking control, and losing control.
エリック・ブレケサウネは、2010年よりノルウェイの芸術家集団"ヴェルデンステアトレ"のメンバーとして、音、ロボット工学、電子工学、ソフトウェア開発を伴う作品制作をしている。
音楽家としては、彼はラップトップ・コンピューターを使い、"ライヴ・コーディング"と呼ばれる、演奏中にソフトウェアを組み上げていく手法を用いる。その演奏は完全にはコントロールしきれないデジタル楽器をリアルタイムに創造していくものである。彼のラップトップ・コンピューターは、制御することと制御を失うことのバランスをとる楽器となる。
---
Toshimaru Nakamura (no-input mixing board) // Biography
His instrument is the no-input mixing board, which describes a way of using a standard mixing board as an electronic music instrument, producing sound without any external audio input. The use of the mixing board in this manner is not only innovative in the the sounds it can create but, more importantly, in the approach this method of working with the mixer demands. The unpredictability of the instrument requires an attitude of obedience and resignation to the system and the sounds it produces, bringing a high level of indeterminacy and surprise to the music. Nakamura pioneered this approach to the use of the mixing board in the mid-1990's and has since then appeared on over one hundred audio publications, including nine solo CD's.

He has performed throughout Europe, North America, Argentina, New Zealand, Australia, Korea, China, Singapore and Malaysia, performing and recording both as a soloist and in collaboration with numerous other musicians.

As an active organizer of concerts in Tokyo, Nakamura has helped many musicians coming to Japan find places to perform, both with himself and with others. From 1998 to 2003 Nakamura and Tetuzi Akiyama ran the concert series Improvisation Series at Bar Aoyama and then later the Meeting at Off Site series of concerts. Both these concert series were crucially important in exposing a new manner to improvised music (referred to as Electro Acoustic Improvisation) to the Japanese public and to foreign musicians visiting Japan, making Tokyo one of the global hotspots for this new approach to music.
中村としまる
小型のミキサーに、音源からの入力結線をせず、内部発振を起こさせることで発音するという独自の手法を得て、ノー・インプット・ミキシングボードと名付けて演奏をする。共演者は世界各地に広がっており、主に日本、ヨーロッパ、北米にて活動しているが、近年はその活動領域を、アジア、中南米にも広げつつある。
---
Martin Taxt, born in Trondheim, Norway in 1981, finished his studies at the Academy of Music in Oslo and CNSMDP in Paris in 2006. Since then he has established himself in the international experimental music scene. He is releasing albums and touring with groups such as Koboku Senjû and Microtub. Since 2013 he has been a part of the award winning art collective Verdensteatret.
He has been running the experimental music label SOFA since 2010 with the musicians Kim Myhr, Ingar Zach and Ivar Grydeland.
マッティン・タクスト
1981年ノルウェー・トロンハイム市出身。2006年ノルウェー国立音楽院及びフランスパリ国立高等音楽・舞踊学校(コンセルヴァトワール)における課程を修了して以来、国内外の実験音楽シーンにて活躍を続ける。主な活動としては古木撰集やMicrotubの一員としてのリリース並びにツアーが挙げられる。2013年からは数々の受賞歴を誇るアート集団Verdensteatretの一員として活動。また2010年以来Kim Myhr、Ingar Zach、Ivar Grydelandらと共に実験音楽専門のレーベルSOFAも主宰。
---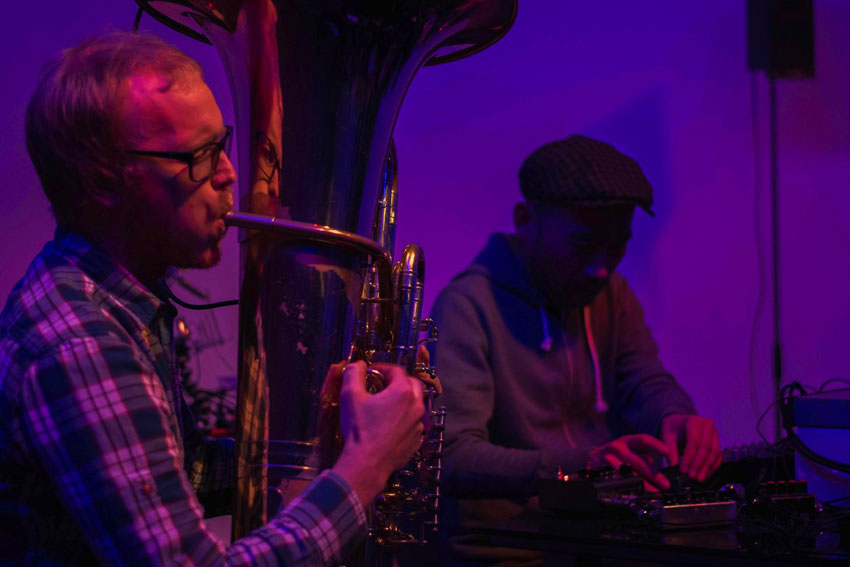 PAN ON FIRE
Toshimaru Nakamura is a pioneer on his instrument no-input mixing board. Releasing nearly hundred albums since the mid 90's, including 9 solo albums. However, in this project with Martin Taxt he appears with a new approach to his instrument by taking Taxt's microtonal tuba into Nakamura's mixer through a microphone and thus, tuba sound affects and sometimes interrupts mixer's internal feedback signal as well as Nakamura processes Taxt's tuba playing. This creates a raw, brutal and surprising character to the music.
中村としまるは、"ノーインプット・ミキシング・ボード"の先駆者として、9作のソロアルバムを含む100作近くに及ぶ作品を90年代より発表してきているが、このマーティン・タクストとのデュオにおいては、タクストのチューバをマイクを介してミキサーに取り込むという、これまでとは違った手法を用いている。これによって、中村がタクストのチューバの演奏を加工出来るだけでなく、チューバの入力信号がミキサー内のフィードバック音に影響を与え、時にはそれを遮ることすらあり、それが生々しく苛烈で驚きに満ちた性質を音楽にもたらしている。